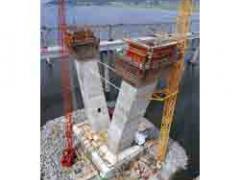 PERI's worldwide reputation to deliver cost-effective solutions has been established through the completion of such projects including the Cooper River Bridge in South Carolina, the Creve Coeur Bridge in St. Louis and the Potomac River Bridge in Washington, D.C.

From standard abutment walls to inclined piers, PERI Formwork Systems has developed a complete range of standard concrete forming systems designed to meet the extreme demands throughout the entire process of concrete bridge-building construction.

Abutment walls are effectively formed through the use of the modular-steel forming system known as the TRIO. TRIO is comprised of only three pieces, including a panel, tie and a universal clamping device known as the BFD. This system can be rearranged into any possible configuration, easily adapting to the various design requirements found on site. It is best suited for applications in the construction of abutments due to its high loading capacity, (1,650 psf or 80 kN) its modular and flexible design and its variable formwork face capability.

In today's construction world, structures are becoming more complicated to build. In order to meet this demand, PERI has produced the Automatic Climbing System (ACS) which allows the formwork to be climbed without the assistance of a crane even in severe weather conditions. PERI's ACS was used on the Cooper River project along with a girder-based wall system known as VARIO to produce this complicated architectural concrete surface. Special features of the ACS System include a hydraulic climbing mechanism, a working platform and a finishing platform. The climbing mechanism is able to lift loads in excess of 10 tons (100 kN) with a stroke rate of 20 cm/min. The working platform can be equipped with a roll-back system allowing 30 in. of clearance space to access the panel surface for cleaning purposes.

These are only a few products designed and fabricated by PERI Formwork Systems which are being used around the world on various bridge construction sites.