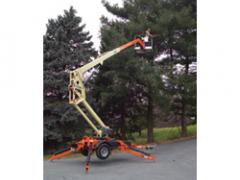 JLG Industries Inc., McConnellsburg, Pa., has recently introduced two Tow-Pro trailer-mounted boom lifts with large working envelopes and fast towing speeds of up to 65 mph. The models T350 and T500J (Circle 913) also feature self-leveling hydraulic outriggers, a removable platform control box with simplified one-handed proportional controls and a unique boom design.
The Tow-Pro model T350 has a 35-ft platform height with a 20-ft horizontal reach, while the T500J has a 50-ft platform height that includes a 4-ft jib boom with 130° vertical motion and has a 30-ft horizontal reach. Both machines feature a 370° non-continuous turntable rotation and have 500-lb unrestricted capacity in their 30 x 48-in. aluminum platform. Power is provided by 24V, 220 ampere-hour batteries, or from an optional 9-hp Honda gasoline engine. Other standard features include surge brakes, parking brakes, air and water lines and a 110V-AC receptacle in the platform.
Productivity-enhancing options for both trailer-mounted boom lifts include a mounting tray for customer-provided generators, pressure washers or air compressors, a convenient glazier/panel tray, air and water lines to the platform and a 90° platform rotor. For the 50-ft-high model T500J, there also is a bolt-on material-handling hook that allows lifting of roof trusses, shingle bundles and other construction components.
T350_JLG.jpg