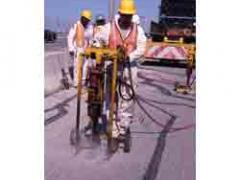 Uretek USA provides soil stabilization, pavement lifting and infrastructure rehabilitation to transportation authorities around the country. Departments of transportation, public works, cities, states and towns all benefit from the speed and power of Uretek's solutions.

Uretek injects a high-density, hydro-insensitive expanding polymer into soils below concrete pavements to fill voids, stabilize and lift them back to grade. The patented Uretek 486 polymer is capable of expanding up to 20 times its original volume and its hydro-insensitivity makes it immune to water.

The patented polymer maintains its strength and expansive powers in even the wettest environments, around broken pipes and compromised underground infrastructure. Water in voids under pavements is pushed out and replaced with a long-lasting, chemically inert base material.

The polymer's light nature contradicts its incredible structural strength: Uretek 486 has a lifting capacity of 8,000 lb/ft2 but does not add a significant amount of weight to already damaged subgrade soils.

Uretek 486 polymer reaches 90% strength in just 15 minutes, making it ideally suited for use under busy pavements. As soon as the work site is cleared, the pavement is ready for full traffic load.