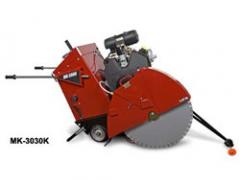 Designed to leverage the high horsepower available in today's new breed of air-cooled V-twin engines, MK Diamond has introduced its MK-3000 concrete saw. The new model offers crews an appealing compact size and light weight for easy maneuverability, combined with the power and cutting depth capabilities of traditional flat saws.
The MK-3000 is powered by a 35-hp Vanguard Big Block air-cooled V-twin power plant from Briggs Stratton Commercial Power. The Big Block power plant includes commercial-duty features that increase durability and stretch service intervals, including a multistage cyclonic air filter, a full-pressure oil lubrication system and an industrial-grade solenoid shift starter motor. In addition to the proven Vanguard power plant, the MK-3000 also is available with the new Kohler Command Pro 35-hp engine.
Due to its light 650-lb weight, the MK-3000 utilizes a manual depth feed. Two blade configurations are available: a 24-in. blade guard provides up to a 9.5-in. depth of cut, and a 30-in. blade guard provides up to a 12.5-in. depth of cut. Both models include heavy-duty blade shaft bearings that are designed to provide long service life combined with easy access and maintenance.