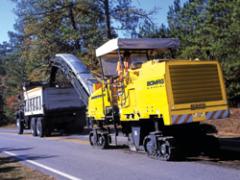 The BM1000/30 and BM1300/30 cold planer milling machines from BOMAG, Kewanee, Ill., feature centrally mounted cutting drums that allow precise milling next to walls, curbs and other obstructions. Highly versatile and easy to operate, the BM1000/30 and BM1300/30 are ideally suited for utility and general surface milling and shoulder-repair applications.
The BM1000/30 offers a standard cutting width of 39.6 in., while a 51.4-in. cutting width is standard on the BM1300/30. Both machines are powered by 275-hp Caterpillar diesel engines and offer a high horsepower-per-cutting-tooth delivery ratio for maximum productivity and efficiency. Additionally, the direct mechanical drive design of the cutting drum provides maximum power transfer while reducing any external losses. Both units are capable of milling depths up to 12.6 in.
The BM1000/30's and BM1300/30's centrally mounted cutting drum eliminates the need to move the right rear track away from the cut line, which provides the machines with improved overall balance. The BM1000/30's and BM1300/30's centrally positioned drum makes it possible to use a shorter take-off belt, resulting in lower maintenance costs and more uptime.