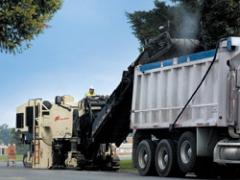 With the introduction of the MT-2000 milling machine, Ingersoll Rand, Davidson, N.C., now offers equipment for each phase of roadway construction and rehabilitation, from milling to compaction.
The Ingersoll Rand MT-2000 (Circle 904) is a four-track, front-load, half-lane milling machine powered by a 600-hp Tier 3 Cummins engine. The MT-2000 offers three distinct drum cutting speeds. The deep-cut power bulge feature provides higher torque at lower engine revolutions per minute to power through tough material or deep-cut applications. The high-speed selection is for maximum speed on shallow cutting depths, and the standard cutting speed is used to provide maximum horsepower and efficiency at normal cutting depths.
The MT-2000 can run both 78.75-in. and 86-in. drums. The drum and housing are easily removed together to reduce time and complexity during interchange. The drums are available with weld-on or quick-change tooth holders and fine or standard tooth-spacing patterns.
The four-track system offers innovative features to improve performance. In addition to front, rear, coordinated and crab steering modes, circle steer is now available for the tightest turning radius possible. Tapered bearings in the rollers reduce track overheating. Active antispin control transfers power from a slipping track to improve traction and provide greater control. An independent slope sensor alerts the operator if the machine is out of an acceptable range and adjusts the support legs to level the machine.