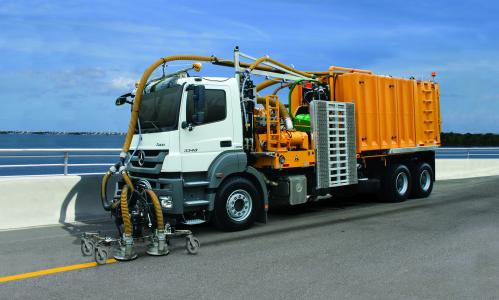 In south Florida, particularly the populous southeast corner of the state, traffic approaches the congested density of Los Angeles' freeway system.
 
Florida highways are busy, and rush hours are not confined to weekday mornings and evenings. Traffic is nonstop, seven days a week, about 20 hours every day.
 
Under these conditions, undertaking a major roadway improvement project is a huge challenge. Over the last five years there have been a number of significant highway projects, but none as important as the I-595 Corridor Roadway Improvement Project. I-595 is the continuation of I-75, bringing traffic from Florida's west coast and connecting Fort Lauderdale's western suburbs with I-95, south Florida's major artery. Past the I-95 intersection, I-595 continues providing access to Fort Lauderdale's airport and sprawling Port Everglades.
 
The improvement of I-595 was the largest project in volume ever undertaken by the Florida Department of Transportation, totaling $1.197 billion. The 10.7-mile road carries 180,000 cars daily. The improvements involved the addition of three reversible express lanes, updating and replacing more than 30 ramps, widening existing lanes of traffic, modifying and reconstructing connecting highway interchanges, updating and resurfacing hundreds of miles of neighboring auxiliary and connecting roads, removing and building overpasses and elevating existing overpasses. By any standards, it was an ambitious project.
 
Waterblasting.com, located in Stuart, Fla., was chosen as the waterblasting contractor for the project. During this extensive 60-month project, the most critical aspect was timing. Waterblasting.com was tasked by the contractor with completing many complicated tight-deadline tasks throughout the expansion. Waterblasting.com was instrumental in minimizing lane closures and traffic backups on this critical east-west artery. The construction project had more than 350 lane shifts, requiring Waterblasting.com to remove thousands of miles of thermoplastic, paint and tape markings. Typically, a 6-in. painted line can be removed by a Stripe Hog at a rate of 2-3 mph and even faster depending on the age and thickness of the marking and surface. At this rate, removals are fast and require only one pass.
 
Waterblasting.com's Stripe Hog waterblasting system uses a tubular head design, allowing its blasting heads to be configured to remove parallel markings without blasting between them, reducing unnecessary impact to the surface and focusing the removal right where it is needed. The heads also can be switched out in minutes in the field, by hand, and be reconfigured for other jobs. Because of the Stripe Hog's efficiency and flexibility, the contractor's tight deadlines were met, and in some cases lost time was recovered.
 
Along with removing lane markings, Waterblasting.com also cleaned many concrete bridges and surfaces of spilled paint, tar and other markings. Waterblasting.com's ride-on tractor blasting tool that tethers to the Stripe Hog was key in extending the reach of the machine and performing the many detailed tasks.
 
One of the Stripe Hog's features allowed crews to work for many uninterrupted hours of blasting without untimely breaks to refill tanks. Stripe Hog's capacity of 3,150 gal of fresh water and 1,600-gal waste tanks keep the machine on the job, and the debris-recovery system is so efficient cleaning and drying the surface that new markings can be put down within 20 minutes, ensuring that lanes are reopened quickly. R&B