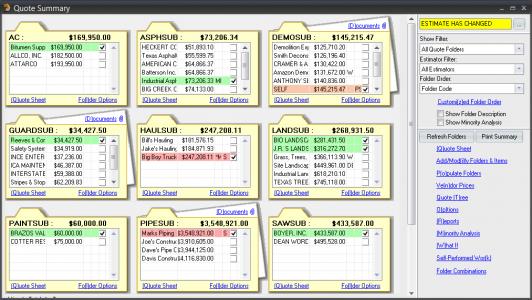 H&S Contracting Inc., located in Moorhead, Minn., was looking for estimating software to take the company to the next level.
 
Their previous system using ledger sheets and Excel documents created in-house was outdated, and as Brent Syster, estimator and project manager with H&S, pointed out, "It seemed to work well, until you change."
 
They needed an estimating software program that allowed them to manage multiple bids on the same bid date as well as better manage subcontracting work. They also were looking to effectively manage last-minute quotes and cuts in the 11th hour in order to close bids with confidence that every item was covered.
 
They chose HCSS's estimating software HeavyBid for a number of reasons. One was for HCSS's 24-hour instant support, as well as its ease of use. The ability to send anything to Excel made importing and exporting information simple. It also integrates with the HCSS job-management software HeavyJob, which H&S would later implement.
 
"Before we started using HeavyBid, we could maybe bid one or two jobs a week as a prime. These would be large $3-4 million jobs, and we couldn't manage the quotes we were getting in from suppliers and subs," said Syster. "Now with HeavyBid and the way it's set up with the vendor system we are able to take quotes minutes before we walk out the door and make huge changes to our bid. It's been a benefit to us because we've been able to win more work by doing that."
 
Importing bid items now takes them just minutes. Copying from previous estimates saves hours of data entry, and sub and material prices are plugged in automatically to get a realistic estimate of cost. What used to take several hours to put together now takes them 30 minutes. "It is not uncommon for us to bid five to 10 projects per day on a DOT letting and be confident that we didn't miss costs and items in our bid," said Syster. "We can change anything in seconds and efficiently close the bid with confidence."
 
Their volume of bids has gone up 200-300% as a prime contractor since moving to HeavyBid, and they are now bidding 10-20 jobs per week. "Last year we did almost $500 million in bid dollars," said Syster. "It's up 300% more."
 
Previously H&S was a $2-3 million-per-year company, and most of that work was coming from Army Corps of Engineers projects. This year they will be a $10 million-per-year company.
 
"When we walk into a bid letting, people actually consider us a threat now. They know we're going to be competitive," said Syster. "We are leaving less money on the table on bids won and expect it to improve as the system grows with us. We recently won our largest bid to date against a number of current contractors by less than a 2% margin." R&B