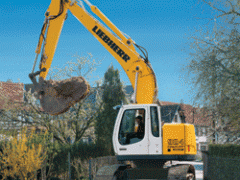 Whether working on the side of a highway or working in the city on narrow busy roads, it has become increasingly important to have an excavator that can easily maneuver in confined spaces and deliver powerful performance.
Liebherr's R 924 Compact Swing, introduced to the U.S. market earlier this year, retains the power and durability of a full-size excavator in a compact body.
The oversize cab windows provide the operator with an unobstructed panoramic view of the entire work area. Automatic climate control is standard; sensors continuously monitor the temperature settings to ensure operator comfort for a full day's work.
In addition to a large, comfortable cab, Liebherr has implemented new service features to maximize productivity each workday.
Critical service points are all concentrated in one location, which is easily accessed from the ground. The swing drive on the R 924 is completely maintenance-free due to the semiautomatic central lubrication system.
The R 924 Compact Swing has a rugged undercarriage designed for stability on all terrains. Liebherr's 164-hp, four-cylinder diesel engine and electronic regulating system efficiently convert the engine output in hydraulic performance, resulting in increased output, decreased fuel consumption and an extended engine life.