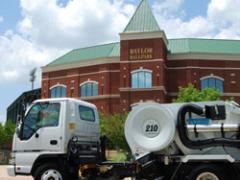 With a clearance as low as 6.5 ft, the TYMCO 210 (Circle 910) is ideal for indoor and outdoor sweeping applications. A high dump function lifts the hopper up to 60 in. for dumping into standard dumpsters or tilt hoppers.
The large auxiliary engine allows the blower to reach maximum air flow power at lower engine RPMs, saving fuel and wear while decreasing sound levels.
The 210 includes inside-cab, operator-friendly sweeper controls with a tachometer, amp and hour meter as standard equipment. The dump control is located outside for safety purposes.
The 210 is the only parking lot sweeper with a patented centrifugal dust separator that keeps the fines and dust inside the hopper. There are no filters or baffles to clean or replace.