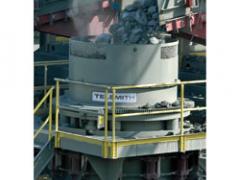 Telsmith Inc., an Astec company, will introduce its new Model SBX Cone Crusher and new Quarry-Trax Track-Mounted Jaw Crusher at ConExpo/Con-Agg 2008.


An evolution in design from the popular SBS cone crushers, the Model SBX is engineered with new internal components and crushing chamber profiles that allow it to accept larger feed. Combining high performance and an extra-coarse feed opening, the SBX is ideal for secondary crushing circuits that once required larger crushers.


The Quarry-Trax is a modern design utilizing PLC controls for ease of operation. In the automatic mode, the crusher feed is maximized by monitoring engine load, crusher load and feed bin level in order to maintain a consistent choke feed. The crusher setting is displayed on an on-board LCD monitor, and adjustments are enabled through push-button controls. A handheld wireless remote maneuvers the plant and provides crusher, feeder, engine and conveyor controls from a safe distance.