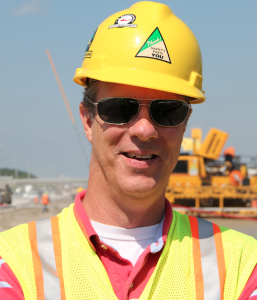 I can't allow my Mom to get close to me, my wife and my three kids.
It's purely for safety reasons, I don't want her to get hurt. Let me clarify, my Mom cannot come within 500 ft of my house by herself at night. Still confused? OK, here is some background. In late January my Mom was coming up to visit us. She only lives about 25 miles away, but she is getting older, and even though I asked her to drive up during the day, she insisted on traveling under the moon. My wife and I had just settled down into the opening minutes of The Post when my cell phone buzzed. The message was one of despair. My Mom was trapped in the mud. She had passed the entrance to my subdivision and attempted to do a U-turn. About a week of soggy conditions and the recent installation of a storm sewer pipe created a mush pit of doom just beyond the shoulder. I raced over to the scene and found my Mom and the front wheels of her car deep in trouble. A cop showed up and offered to call a tow, so I asked my Mom to gun it one more time to see if any progress could be made. Slowly it loosened from the grips. I kept on encouraging, like I was talking a 12-month old through their first steps. She was spinning free and eventually made it out, only to smack into the police car that was parked about 20 ft away. See, it's just not safe. My Mom should not be allowed to drive in my neighborhood after sunset.
The small town of Leonia, N.J., also is only allowing drivers of privilege to pass through. You see, Leonia is located just before the George Washington Bridge, and apparently commuters have created a shortcut when I-95 traffic backs up. You used to have to be a member of a secret society and know some sort of special call to know about the bypass to congestion freedom, but these days all you need is the Waze app or Google maps. On a normal day during peak travel times Fort Lee Road, which runs through the heart of Leonia, receives about 4,000 cars, but on those special bumper-kissing days as many as 12,000 strangers can roam the neighborhood. Leonia residents have not liked the extra attention for years, and recently the city council voted unanimously to close off the route to anyone other than Leonians. Now cars must have a yellow tag (for residents only) hanging from their review mirror to use not just Fort Lee Road during critical travel times, but all 60 of the town's side streets. Those caught without the side street pass can be fined $200.
Supposedly Waze and Google maps have made adjustments and will no longer offer up Fort Lee Road as an alternate route. Leonia police have let motorists slide during the transition, but that break is over. I do have a few questions. Are police going to be monitoring all 60 side roads? Is there even the manpower to do this? How much is this going to cost taxpayers? Instead of trying to solve a case (perhaps there are none in this innocent east coast dwelling), the finest are pressing their eyeballs up against windshields. If you are a first-time violator will you receive a warning? Seems like the free pass has expired . . . even if you are a confused, frail grandma trying to avoid getting stuck.