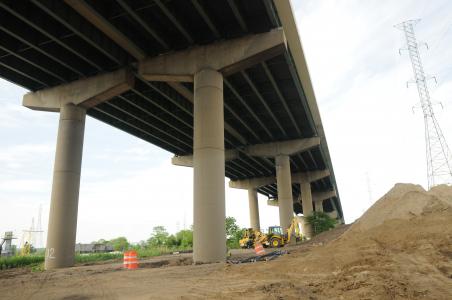 Delaware's transportation secretary, Shailen Bhatt, has ordered all major bridges in the state to be inspected, according to the Associated Press, to see if any of them might have a problem similar to the one found last week on the I-495 bridge over the Christina River northeast of Wilmington.
Meanwhile, the U.S. DOT has released $2 million in emergency relief funds from the Federal Highway Administration to help the Delaware Department of Transportation (DelDOT) repair the I-495 bridge after inspections revealed support columns on the bridge had shifted.
"These funds are a down payment on our commitment to the people of Delaware," said U.S. Transportation Secretary Anthony Foxx. "Because this bridge is vital to thousands of local residents and to millions more throughout the East Coast, getting this bridge repaired quickly is a high priority for all of us."
The U.S. DOT has pledged to pay for 90% of the total repair bill, the AP reported, because the bridge is part of an interstate highway. The total cost of repairs is not yet known.
The bridge, which is currently closed because of the tilting columns, is a key artery for the East Coast, serving an estimated 90,000 vehicles each day. Spanning the Christina River, the bridge is part of a key bypass that helps drivers avoid a congested section of I-95 that cuts through downtown Wilmington.
The $2 million will help the state pay for emergency repair work and aggressively move forward with long-term bridge repairs.
Built in 1974, the bridge has been inspected regularly—most recently in 2012—and was rated in "good condition" by state inspectors.