Strong following
Skid steers touch up milling projects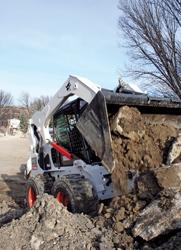 Strong following
Skid steers touch up milling projects
While they're not the stars of the show, skid-steer loaders definitely earn kudos in a supporting role from highway and heavy paving contractor Christ Bros. Asphalt Inc., Lebanon, Ill.
Christ Bros. Asphalt currently owns seven Bobcat machines that are primarily used to "clean up" on pavement milling projects after the big milling machines are through. Their fleet includes four compact track loaders and three skid-steer loaders, including a new 85-hp S330.
"We run our Bobcat loaders mainly with the planer and sweeper attachments," said John Cornell, one of the principals of the 27-year-old paving company along with Mark and Carrie Christ. "The loaders will true up the edges of butt joints at the end of a street once the big milling machines are done. We also use them to sweep up debris."
Christ Bros. Asphalt operates two asphalt production plants located in Lebanon and South Roxana, Ill. Most of their work is done within a 50-mile radius of the St. Louis metro area. According to Cornell, about 80% of the business comes from the Illinois Department of Transportation. Christ Bros. Asphalt is a state-approved contractor and typically produces from 600 to 1,500 tons of asphalt per day at its two facilities.
The company has 30 full-time employees but employs over 100 seasonal workers at the peak of the paving season, according to Carrie Christ. They typically run two to three paving crews each summer.
Like many contractors, Christ Bros. Asphalt owns a variety of attachments for their Bobcat loaders. In addition to planers and sweepers, they have a wheel saw, hydraulic breaker, tiller, auger, blade dozer, tooth bucket and even a soil conditioner.
"Versatility is the key," said Christ.
The new S330 loader will be used to run one of the company's high-flow hydraulic planers. "If you have long stretches of planing to do and you're going to be running up and down the road, it's better to have a skid-steer loader," said Cornell. "Track loaders are useful in many situations, but the rubber tracks wear out very quickly when you're planing on hard paved surfaces."
Cornell said that Christ Bros. Asphalt does not typically buy equipment strictly on brand. "We have a wide variety of equipment brands in our fleet, even among similar products such as loaders, excavators and rollers," he said. "Yet we only buy one brand of compact loader and that's Bobcat."
For one thing, he said, Bobcat has done a good job of making sure that older attachments are compatible with new loader models. Some manufacturers have introduced new models that will not run older attachments or the attachments of other manufacturers, he said.
"In addition, Bobcat of St. Louis has been excellent to work with," he said. "They provide us with excellent service."
Finally, he said, his skid-steer loaders have been very reliable, even in sizzling summer conditions. "It can be hotter than heck and they're still out there working," he said.