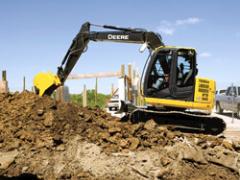 John Deere has introduced the 75D midsize hydraulic excavator. The machine's reduced tail swing and 360° rotation enable it to get into tight spaces.


The 75D has a 54-net-hp Tier IV-certified diesel and Deere's exclusive Powerwise engine/hydraulic management system, which maximizes power output, saves fuel and delivers smooth, multifunction operation.


The excavator's "E" working mode can save fuel by running more efficiently compared to the previous model's "P" mode, while providing similar production. An auto-idle feature helps make the most out of every drop of fuel.



Exceptional drawbar pull delivers plenty of power for backfilling trenches or maneuvering around the jobsite. Plenty of lift height and reach make truck loading easy, even on trucks with high sideboards.


An optional control pattern selector valve lets the operator go from backhoe- to excavator-style controls with just a twist.