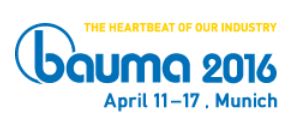 April 11-17, 2016
Munich, Germany
Experience the construction machinery industry in its full dimension.  bauma is a global driving force behind innovations, a success engine and a marketplace. It is the only trade fair in the world that depicts the industry for construction machinery in its entire breadth and depth. The only place to get an overview that is this comprehensive is at bauma. It is a platform that also features a number of international premieres—making your visit an unforgettable experience.
bauma truly features everything related to construction, building-material and mining machines as well as construction vehicles and equipment. This is the place to find perfect solutions—for every need, every company size and every application.  People make concrete business transactions at bauma. Take advantage of the diverse range of models and professional advice directly from the source. It is the best way to ensure that you make exactly the right investment for your company. 
bauma's exciting specials will inform you about the industry's trends, tendancies and news. Attend our first-rate program of forum events or the "Research Live" international information center and expand your know-how.