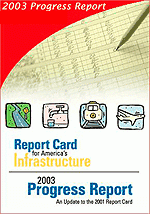 In March 2001, the American Society of Civil Engineers (ASCE) released a Report Card for America's Infrastructure, grading 12 infrastructure categories at a discouraging D+ overall and estimating the need for a $1.3 trillion investment to bring conditions to acceptable levels. In September 2003, ASCE released a Progress Report that examines the current trends for addressing the nation's deteriorating infrastructure and discusses actions the federal government should take to bring conditions up to acceptable levels. ASCE did not issue new grades because the condition and performance have not changed significantly in two years.
ASCE released the following remarks about the nation's roads and bridges:
"The nation is failing to even maintain the substandard conditions we currently have, a dangerous trend that is affecting highway safety, as well as the health of the economy. According to the Federal Highway Administration's 2003 Conditions and Performance Report, traffic congestion costs the economy $67.5 billion annually in lost productivity and wasted fuel. Passenger and commercial travel on our highways continues to increase dramatically. The average rush hour grew more than 18 minutes between 1997 and 2000. The American Association of State Highway & Transportation Officials' Bottom Line Report estimates that capital outlay by all levels of government would have to increase by 42% to reach the projected $92 billion cost to maintain level, and by 94% to reach the $125.6 billion cost to improve level. This is in contrast to the FHWA which estimates that outlays by all levels of government would have to increase by 17.5% to reach their projected $75.9 billion cost to maintain level, and 65.3% to reach their $106.9 billion cost to improve level.
"As of 2000, 27.5% of the nation's bridges (162,000) were structurally deficient or functionally obsolete, an improvement from 29% in 1998. A structurally deficient bridge is closed or restricted to light vehicles because of its deteriorated structural components, which require speed and weight restrictions. A functionally obsolete bridge has older design features and while it is not unsafe for all vehicles, it cannot safely accommodate current traffic volumes, vehicle sizes and weights. These restrictions not only contribute to traffic congestion, they also pose major inconveniences such as in Warren, Pa., where the local hospital has stationed an ambulance crew on the other side of town to avoid a time-consuming three-mile detour around the Hickory Street Bridge while the town awaits construction of a new $10 million span."