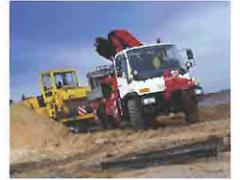 When it comes to increasing efficiency and profitability, the UNIMOG multi-purpose on/off-road vehicle bridges the gap between a single-purpose vehicle and the results most operators demand in a motorized machine.
Dozer blade, excavator, crane, front-end loader, grader, drill, street sweeper, snowplow and many more operations are perfectly suited for the UNIMOG all-wheel drive, all-terrain vehicle powered and built by Mercedes-Benz.
The UNIMOG can travel at highway speeds while traveling to a work site and go off road if necessary. A low center-of-gravity chassis equipped with portal axles and long travel coil spring suspension, plus front and rear differential locks, and up to 18.5 in. of ground clearance combine to provide excellent on/off-road maneuverability.