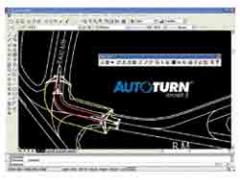 The Fort Bonifacio project is a world-class city of the future, combining the best elements in urban design, site planning, zoning, density management, pedestrian systems, infrastructure and aesthetic guidelines. Led by Ayala Land Inc. (ALI) the team included master planners, ROMA design group of San Francisco and Parson Brinckerhoff Philippines Inc. as traffic consultants. The result was Fort Bonifacio's award-winning master plan.

One of the tools used by the team was ParkCAD, a CAD program developed by Transoft Solutions Inc. The software allowed Fort Bonifacio designers to generate conceptual parking lot designs and quickly test "what-if" scenarios.
Considering the large geographic scope of this project, designers felt that the provision of ample parking represented a significant investment. Salvador Tan (Arch., AICP, EnP) of ALI used ParkCAD early in the planning process to determine public-parking requirements. Tan works in ALI's Planning Department and wears multiple hats as architect, urban planner and transportation planner.
One particularly challenging aspect of the parking layout came while estimating off-street surface public parking facilities in the unique crescent-shaped lots. These lots were a result of the original overall design, which featured large concentric circles with parking lots ranging in size between 200 to 1,000 stalls.
"We used ParkCAD extensively for generating parking capacity estimates in these crescent-shaped lots," said Tan. "Without the use of ParkCAD, it would have been difficult and time-consuming to layout these parking lots."
With almost 500 on staff, ALI is the second-largest real-estate developer in Asia and the largest in the Philippines, focusing largely on commercial and residential projects. Tan insists that there is a large demand for ParkCAD amongst real-estate developers. He estimated that, through the use of this product, ALI staff achieved a 50% increase in productivity.
"I like its efficiency and how it meets many unique challenges. I can churn-out parking lot concepts rapidly, which helps shorten project delivery times," he said.

As a result of the work with a team of professionals using a variety of state-of-the-art tools, Fort Bonifacio will remain the pre-eminent business, residential and commercial center for the Philippines for many years. One of these tools, ParkCAD, helped the development find its wings early in the design process.