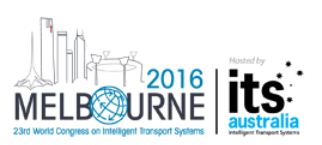 October 10-14, 2016
Melbourne, Australia
The World Congress on Intelligent Transport Systems (ITS) facilitates and influences global cross-talk of technologies and services towards making the full deployment of intelligent transport systems a smart and sustainable reality.  Held each year in a different global location, the World Congress is an international meeting regularly attracting 10,000+ attendees, rotating through Europe, the Americas and Asia Pacific.
ITS technologies include communication, data processing and electronic technologies for in-vehicle, vehicle-to-vehicle, vehicle-to-infrastructure and mode-to-mode systems that increase transport safety and mobility, improve the sustainability of travel, reduce congestion, and improve the performance and competitiveness of all modes of transport. 
Surging growth in international demand will ensure that this gathering of ITS researchers, developers and users will be among the largest meetings in Melbourne during 2016.