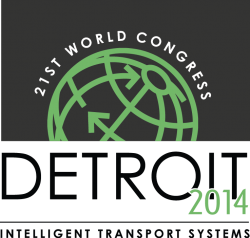 September 7 – 11, 2014
Detroit, Michigan
 
This year's theme "Reinventing Transportation in our Connected World," will showcase some of the world's most brilliant transportation systems and highlight the race to become more connected and integrated through technology. From Connected Vehicles and freight management to smart infrastructure and cutting edge ITS architecture – this event will have it all.
 
Taking place in the newly refurbished Cobo Center, the World Congress will offer 300,000 square feet of interactive technology showcases including for the first time ever, a working multi-modal Transportation Operations Center. There will be more than 250 technical and scientific sessions as well as countless networking and educational opportunities with ITS industry leaders from both the public and private sectors.  
 
For more information or to register click here.