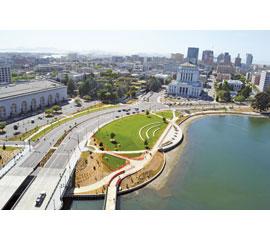 Project: 12th Street Reconstruction

Location: Oakland, Calif.

Cost: $32 million

Designer: Rajappan and Meyer

Contractor: McGuire and Hester

Owner: City of Oakland
Give the lake a little space—and some accessories. The 12th Street Reconstruction involves turning the roadway into a six-lane, tree-lined boulevard with signalized intersections and crosswalks as well as a landscaped median. It also will be built further away from Lake Merritt, which received a facelift with new pedestrian and bike paths and open-water bridges running over what were culverts. A new four-acre park also was created, and the project also included re-establishing a section of open channel to allow travel by kayak.