I-270 AT RTE. 364/PAGE AVE. INTERCHANGE PROJECT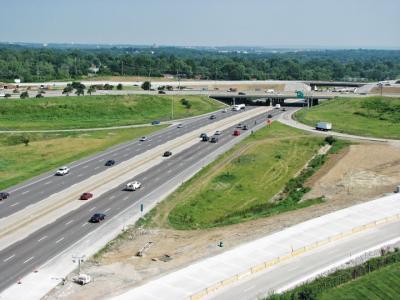 PROJECT: I-270 at Rte. 364/Page Ave. Interchange Project
LOCATION: St. Louis County, Mo.
COST: $22 million
LENGTH: 1.6 miles
DESIGNER: URS
CONTRACTOR: Fred Weber Inc.
OWNER: Missouri DOT
MoDOT thought it would have better luck with something other than a cloverleaf. That type of interchange was upgraded with a dual-lane directional ramp to deal with heavy traf?c movement on the corridor. MoDOT's value-engineering program suggested the location of the new ramp be moved from an interior ? yover position to a circular layout located along the exterior boundary of the interchange, all within the existing right-of-way.