CROSS BAY VETERANS MEMORIAL BRIDGE REHAB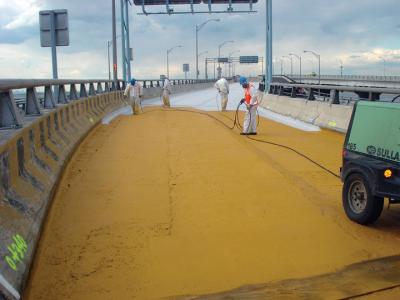 PROJECT: Cross Bay Veterans Memorial Bridge Rehab
LOCATION: Queens County, N.Y.
COST: $58.4 million
LENGTH: 275 ft
DESIGNER: Dewberry
CONTRACTOR: El Sol Contracting & Construction Corp.
OWNER: MTA Bridges & Tunnels
A complete set of innovative schemes gave this project high value. Six strengthening schemes were offered to the client, which decided to go with glued steel plates for this deck rehab and drainage replacement job. To help prevent corrosion, admixtures such as an inhibitor and shrinkage-reducing agents were added to the closure pour. The thickness of the pour was increased to provide additional cover.